http://africarm.org/site/wp-content/uploads/2014/07/scared-cartoon.jpeg
Oh wow… talk about feeling like a stranger in my own space…
Guess I am owing enough belated greetings – from Happy Independence Day Celebration (in arrears) to Barka de Sallah (in arrears).  Oh… my Sallah break was tres fab!  I enjoyed every minute of it!  😀
Then moving on to Happy Birthday (in arrears), Happy Married Life (in arrears), Happy Anniversary (in arrears)… errr…. what else have I missed??? Oh yes!!!  Congratulations on the birth of your baby(iees)… 😀    
And I say these greetings with the utmost sincerity!  
Great!  So now that I have redeemed myself, I'll start with my post for today!  Conquering Fear!
http://www.liberatemedia.com/wp-content/uploads/2012/07/marketing-fear-social-media.jpg
Ok so this post is not about the usual stuff we read about in self-help books or listen to at seminars.  We've all read and heard enough right?  It's time to take action! 😀
And I'm taking my first step.. even though it took about a month to get here… haha!   Pretty surprising, even to me since I am someone who is pretty fearless when it comes to making decisions and taking risks work wise.
And this post my my first step to conquering that fear! Yes I have been psyching myself up for the past month or so until I said to myself today
"argh please…. just go ahead and move past this point!"
And what's this fear I have nursed till now?  Posting YouTube Videos of myself!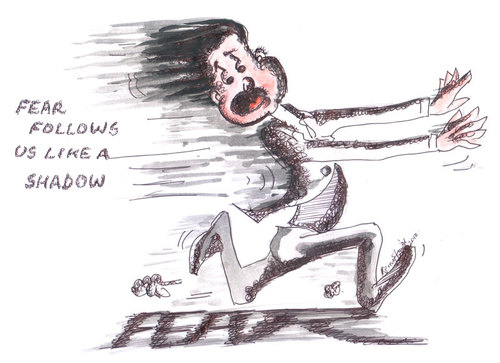 http://www.toonpool.com/user/3622/files/fear_is_our_life_partner_888385.jpg
Yah… seems pretty silly right?!  You might think so.  But for me, chatting into a camera and then putting myself out there is not so easy for me.  I am a pretty shy person – though you might not believe it – I had to work hard on that and I think I have done a pretty good job of masking it.  For me, words and pictures are much easier.
But anywayz, I had been nursing the idea of videos for a while now and did a few but just never summoned up the courage to post them.  Well… until I got a message from a Blackberry contact on how scared she was to start her fashion business despite learning the ropes in fashion school and knowing how to sew.  But for her, the major issue was her lack of confidence and the fear that customers would hate her work or she would mess up.
For me, from experience, the answer always seemed simple!  "Well you will actually never know if you will mess up or not until you try.  So 
just start and if you do bungle (which you definitely will since it happens to everyone), you will learn from it".  
But alas!  I only realised it was not that simple when I started getting similar messages from other people.  I did advise them on how to start off but this inner voice kept saying to me: "here you are giving people advice when you are yet to face your fear".
So I thought to myself, well rather than write about the topic, I'd shoot a video addressing it with my phone and post it.  That way I would have killed 2 birds with one stone! 😀
So here it is…. the very first You Tube Video of myself…..brrrrrrr….. (insert-chewing-on-my-nails-inwardly-extremely-nervous-covering-my-face-emoticon-in-here)……..

Here is the link to the video: 
All shot and edited by me! 😀  Not bad right?!  I am so proud of myself.  Amazing what you can do when you put your mind to it!
And yes!  Please encourage a sister by clicking subscribing to my Youtube Channel, clicking the "like button" under the video, commenting and sharing it with your friends.  It would really help since I plan to do this more often now.
Muchos gracias!  MWAH!  
Oh… PS:
You can get to the YouTube Channel through the video but just in case, My YouTube Channel is "Martwayne".  It comes up when you search for it.